SolarShare makes it easy for investors to earn an impressive return while doing something good for the planet. We own and operate solar energy installations that any Ontario resident can invest in.
When you invest, 100% of your funds will directly finance solar projects across the province that are already built and producing stable revenue, like this one in Toronto. And you don't need your own roof!
SolarShare was incorporated in 2010 and has grown to over 2,000 members who are passionate about solar power. Our members have invested nearly $80 million, earning over $12 million in interest. We want everyone to have the opportunity to financially benefit from our projects while helping to end our reliance on non-renewable energy sources.
"I met with an ethical financial advisor. He recommended SolarShare as one part of my portfolio. It's a win-win; you get to help the transition to a greener economy and you get a pretty great return at the same time."
- Felix Whitton, Senior Program and Engagement Lead at Friends of the Greenbelt Foundation
"Embrace the power of creative disruption."
- Paul Cassel, Founder and President of Up Marketing
"I like knowing the money I invested goes towards something I truly believe in."
- Maya Shapiro, Anthropologist
"SolarShare is the democratization of power and renewable energy. This is a community who's building its own power infrastructure and participating in powering the province with clean energy."
- Richard Corley, Partner at Goodmans LLP
"SolarShare is great because they have a lot of talented people and the experience to operate and run the solar systems. SolarShare keeps money locally. When you invest, your money stays in Ontario and helps the economy of this province."
- Ambrose Raftis, Board Chair at Green Timiskaming Development Co-operative
"I'm delighted to invest in SolarShare and support their leadership in the urgent transition from fossil fuels to renewable energy."
"Co-ops develop the ability of communities to do things for themselves; you don't have to wait for a government program. Being a member of co-op and doing this good stuff also empowers you to do other good projects. It doesn't have to be energy."
- Bill Jones, Co-Chair of TREC Board of Directors
"I like the fact that Solar Bonds are motivated by a financial benefit as well as a community benefit as well as an environmental benefit. So they've got that triple bottom line value, and that means something to me and is worthy of my money."
- Scott Snowden, Principal at Flywheel Strategic
"Solar Bonds are a great product with a decent return. I invested in line with my values and my belief in a profitable low-carbon economy."
- Christopher Charlesworth, CEO and Co-Founder at HiveWire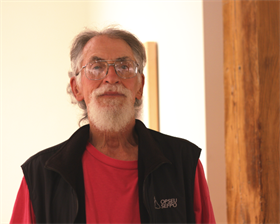 "The way our society and economy is going is not viable. SolarShare is one small component in making it viable. The returns are decent and the people in the community are a pleasure to meet up with from time to time."
- John Liss, Lawyer (retired)
"SolarShare is one of the few investment vehicles that comes with true hope; you can invest in a lot of other things but you're not quite sure if they're going to be good for us in ten or twenty or thirty years—but with solar you can be sure."
"I just had my roof re-roofed and it cost a ton of money to get the solar panels off and put them on again. If you're interested in contributing to solar energy, the BEST thing to do is give your money to SolarShare and they put panels on somebody else's roof, which is more profitable and you'll make a bigger impact."
- Lee Adamson, Toronto Resident
"At CAPE we advocate for a healthy planet to improve the health of people. Investing in SolarShare allows us to put our money where our mouth is and rest easy knowing that we are living our values by supporting community-owned, clean, healthy, renewable energy."
- Kim Perrotta, Executive Director, CAPE
"The Catherine Donnelly Foundation's decision to divest from fossil fuels was motivated by a strong financial logic as well as a deep concern for environmental stewardship. Solar Bonds are an appealing investment that comfortably aligns with our environmental focus."
- Jason Dudek, Past Chair, Catherine Donnelly Foundation
"We were pleased to find an investment that offered a good return, good security, and sustainability all in one package!"
- Board of the Ontario Humanist Society
"As a faith-based foundation, ELFEC seeks to uphold the integrity of creation, not its destruction. Investing in SolarShare offers us a double benefit: reduction of our portfolio's carbon footprint as well as a solid financial return."
- Evangelical Lutheran Foundation of Eastern Canada (LFEC)
As a community based organization, SolarShare's success is due to the passion, dedication and expertise of our board, committees, staff, members and partners.
Board of Directors
The SolarShare board oversees the strategic direction of the co-op and is made up of nine members of SolarShare, each serving a three year term.
Ashley Reid
Director
Ashley Reid is a designated Chartered Professional Accountant who holds an MAES in planning from the University of Waterloo and a passion for sustainable economic development. Living in France 20 years ago she became acutely aware of the cultural difference in energy consumption. She has since visited 41 countries on 5 continents and continues to be perplexed why culturally we are not reducing consumption and migrating to sustainable, renewable energy sources. After completing her designation, she began a career in the private sector working as an analyst for publicly traded organizations where shareholder profits were at the core of business decisions. In the search for employment with a positive social impact - she stumbled upon MEDA. In her current role as the Senior Internal Audit & Compliance Manager, she audits economic development projects abroad. Ashley has a strong history of being actively involved in her community. Some of her past volunteer experiences include sitting on the Kitchener Economic Development Advisory Committee, Waterloo Audit Committee and working with the Kitchener-Centre Green Party of Canada EDA.
Doug Finley
Director
Doug was the President of CCH Canada and worked toward building the complex tax compliance software used by every top accounting firm in Canada. He held full P&L responsibility, overseeing major investment evaluations, as well as marketing and sales efforts, and human resources planning. Recently, Doug has taken on a consulting role, working with founders and investors to execute the growth of small software companies. Doug holds an MBA and an HBA from the Ivey School of Business at Western University and is a member of the Ontario Fundraising Committee for the Nature Conservancy of Canada. He got involved with SolarShare in 2018, as a member of the Marketing Committee, and has subsequently provided invaluable support to staff and other Committee members in achieving annual bond sales targets. In addition, as a member of the Finance Committee, he assisted in the development of the new Offering Statement in 2019.
Glen Campbell
Chair
Glen Campbell is an investor and independent consultant, with a 35-year career as a consultant (with Andersen Consulting and Bain and Company), equity research analyst (Head of Canadian Equity Research and Global Coordinator for Telecom Services Research with Bank of America Merrill Lynch) and corporate management (as Chief Commercial Officer at Wind Mobile and SVP Wireless Planning at Shaw Communications). He has an MBA from UBC and a BA (Economics) from the University of Western Ontario. He owns two MicroFIT solar projects and is the past chair of the Ontario regional board of the Nature Conservancy of Canada. Glen lives in Toronto with his wife and three daughters.  
Graysanne Bedell
Vice-President
Graysanne Bedell
Vice-President
Graysanne is a retired corporate-commercial lawyer with experience as a director and officer of non-profit and for-profit corporations. In her role with a venture capital firm she managed investment transactions and fund governance. Previously she was the corporate Secretary of a public company and general counsel to its largest division. She acted as the designee of The Atmospheric Fund (TAF) on the board of a start-up which organized and financed commercial energy retrofits, and is now a director of TAF. Volunteer work has included: helping create the Community Forward Fund (a fund lending money to non-profits); 30 years on the board of a women's social service charity (Street Haven at the Crossroads); local environmental groups. 
Mike Brigham
President
Mike Brigham is a Toronto-based small business owner with a passion for renewable energy. He designed and installed his first off-grid solar electric system at his island cottage north of Toronto in 1985. Mike is both co-founder and president of SolarShare, still very active today in the operations and maintenance of SolarShare's 51 projects. His private foundation funds various activities to fight climate change, particularly focusing on promoting the use of electric vehicles.
Patrick Collie
Director
Having worked in the solar industry since 2014, Patrick currently holds the position of Project Manager at Liberty Power, a subsidiary of Algonquin Power & Utilities Corp., where he manages the development and construction of 20 - 200+ MW utility-scale solar energy projects. Algonquin actively invests in hydroelectric, wind and solar power facilities, and utility businesses (water, natural gas, electricity), through its two operating subsidiaries: Liberty Power and Liberty Utilities. Prior to Liberty Power, he worked in a variety of Project Management, Engineering, and Construction roles within the Ontario FiT Solar industry at GP Joule, Solar Provider Group, and RESCo Energy. Patrick is a Professional Engineer who studied Mechanical Engineering at Queen's University and is a NABCEP Certified PV Installation Professional.
Pieter de Koning
Director
Pieter de Koning
Director
Pieter de Koning is the VP Engineering at e-Zinc, a technology start-up developing a zinc-based energy storage system. He has 26 years of experience in technology development, feasibility studies, competitive research, marketing and business development. Prior to e-Zinc, he was the Director of Production for Flywheel Energy Storage company, and before that ran projects in Energy Storage, Renewable Power, and Microgrid at Hatch and as an Independent Consultant for clients including Canadian Solar, NRCan, WindSmart, and Amp Solar. Prior to joining the cleantech space Pieter worked for Xerox and Spin Master Toys and holds several patents for his work. Pieter is a Licensed Engineer with a Civil Structural degree from University of Waterloo and MBA from Rotman at UofT with a double major in Marketing and Technology Innovation. Pieter has been on the SolarShare board since 2017 and is currently the chair of the Marketing Committee.
Ron Seftel
Treasurer
Ron Seftel is a financial executive with over 25 years of experience managing the financial and operational aspects of several small, entrepreneurial led businesses. Currently the CFO of Parity Inc., one of the fastest growing companies in Canada the past 2 years specializing in energy efficiency for multi-family buildings across North America. Prior to Parity, he spent 12 years with Bullfrog Power, one of the leading renewable energy companies in Canada as CFO, COO, and for the past 3 years as CEO. During that time, he obtained an in-depth knowledge of the Canadian renewable energy landscape and negotiated over 50 renewable energy contracts valued at over $100MM.
Shama Ahmed
Director
Shama Ahmed is part of TD Bank's Marketing Operations Team, where she champions strategic projects for the VP, North American Marketing Operations and acts as a process and change manager, driving large-scale initiatives and operating models. Prior to that, Shama was part of the Global Corporate Citizenship at TD, where she oversaw the annual investment of over $15 million in communities across Canada, supporting TD's corporate philanthropic strategy in the areas of Financial Literacy, Social Finance and Indigenous Peoples. Shama also spent 5 years at TD Securities in numerous roles within Global Risk Management. She has extensive experience with the Federal Government, having spent time with the Departments of Finance as well as Indian & Northern Affairs. Shama holds an M.A. in Economics from McGill University and an MBA from the Rotman School of Management.
Committees
The work of the board of SolarShare is supported by seven committees. Each committee is chaired by a board member and includes non-board membership. Committees take direction from the board and also raise issues for consideration.
Management
Bob Ross
Operations & Maintenance Coordinator
Bob Ross
Operations & Maintenance Coordinator
Bob has managed over 300 solar projects throughout North America utilizing his skills in design, evaluations, engineering, installation, commissioning and monitoring. He enjoys sharing his knowledge through teaching in the Renewable Energy Techniques program at Conestoga College.  Prior to joining SolarShare, Bob was a Project Manager at Efston Science (eSolar) and Operations Manager at Solar Ontario. He managed his own building contracting company for 25 years. 
Chris Caners
P. Eng., General Manager
Chris Caners
P. Eng., General Manager
Chris is a professional engineer with more than fifteen years of experience in energy and sustainability, and is responsible to the board of directors for the management, operations and strategy of SolarShare. Prior to joining the co-operative in 2016, Chris was a Senior Manager with the consultancy ICF, where he advised business and government on GHG verification and management, renewable energy, energy efficiency and environmental sustainability. He has also worked with the innovative company M-Kopa Solar (Kenya) and was the Manager of the University of Toronto Sustainability Office. Chris is a director of the Ontario Co-operative Association and has acted as a director and committee member for the Clean Air Partnership and the Grants and Special Projects Committee of the Toronto Atmospheric Fund respectively.
Partners
Canadian Worker Co-op Federation
Canadian Worker Co-op Federation
The Canadian Worker Co-operative Federation (CWCF) is a national, bilingual grassroots membership organization of and for worker co-operatives, related types of co-operatives (multi-stakeholder co-ops and worker-shareholder co-ops), and organizations that support the growth and development of worker co-operatives. CWCF offers a Self-Directed Registered Retirement Savings Plan and Self-Directed Tax-Free Savings Account Program that enables co-operatives and similar types of enterprises, including non-profits, to capitalize their ventures with securities held within Registered Plans. Many SolarShare investors hold their Solar Bonds in RRSPs and TFSAs with the CWCF.
Tapestry Community Capital
Tapestry Community Capital
Tapestry Community Capital is a non-profit co-op that supports other co-ops and non-profits in raising and managing community investment. Tapestry provides back-end investment management for SolarShare.
TREC
TREC is Canada's leader in the development of community owned renewable energy. They are a non-profit co-op supporting other co-ops, Indigenous communities and social enterprises with their Community Member & Investment Services, and informing policy through research and advocacy efforts. In 2009, TREC founded SolarShare.